Dear Friends,
 We are excited and anxious over the news just released that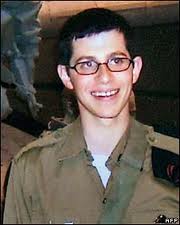 Gilad Shalit, after nearly 1950 days in captivity, may be released. It is our incumbent upon us to daven to Hashem that everything should go well and he be safe. We ask that when you receive this email that you immediately say Psalm 130 (Tehillim Kuf"Lamed) (below) and have in mind the safe return of Gilad Ben Aviva (v'Noam) Shalit.
May Hashem continue to watch over Gilad and all the Israeli captives and MIAs.
    May this truly be a Chag Same'ach for Gilad, his    family and Klal Yisrael.
 
א שִׁיר הַמַּעֲלוֹת:מִמַּעֲמַקִּים קְרָאתִיךָ ה': ב ה'  שִׁמְעָה בְקוֹלִי תִּהְיֶינָה אָזְנֶיךָ  קַשֻּׁבוֹת לְקוֹל תַּחֲנוּנָי. ג אִם עֲו‍נוֹת תִּשְׁמָר יָ-הּ, ה' מִי יַעֲמֹד. ד כִּי עִמְּךָ הַסְּלִיחָה לְמַעַן תִּוָּרֵא. ה קִוִּיתִי ה'  קִוְּתָה נַפְשִׁי וְלִדְבָרוֹ הוֹחָלְתִּי. ו נַפְשִׁי לַ ה' מִשֹּׁמְרִים לַבֹּקֶר שֹׁמְרִים לַבֹּקֶר. ז יַחֵל יִשְׂרָאֵל אֶל ה' כִּי עִם ה' הַחֶסֶד וְהַרְבֵּה עִמּוֹ פְדוּת. ח וְהוּא יִפְדֶּה אֶת יִשְׂרָאֵל מִכֹּל  עֲו‍ֹנֹתָיו
 
1 A Song of Ascents. Out of the depths have I called Thee, O LORD.  2 Lord, hearken unto my voice;let Thine ears be attentive to the voice of my supplications. 3 If Thou, LORD, shouldest mark iniquities, O Lord, who could stand? 4 For with Thee there is forgiveness, that Thou mayest be feared. 5 I wait for the LORD, my soul doth wait, and in His word do I hope. 6 My soul waiteth for the Lord, more than watchmen for the morning; yea, more than watchmen for the morning. 7 O Israel, hope in the LORD; for with the LORD there is mercy, and with Him is plenteous redemption. 8 And He will redeem Israel from all his iniquities. 
 ________________
Shalit release deal with Hamas approved
October 12, 2011
JERUSALEM (JTA) – Israel's Cabinet approved a prisoner exchange agreement with Hamas that would free Israeli soldier Gilad Shalit.
The Cabinet approved the agreement early Wednesday morning during an emergency session by a vote of 26 to 3. 
The terms of the agreement reportedly include the release next week of Shalit in exchange for 479 Palestinian security prisoners. Another 550 prisoners will be released in two months.  
The prisoners are from both the West Bank and Gaza. About half of the prisoners will not be allowed to return to their homes. Some will be deported abroad and the rest will go to Gaza.
Earlier, on Tuesday evening, Israeli Prime Minister Benjamin Netanyahu confirmed that Israel and Hamas have arrived at a prisoner exchange agreement that would free Israeli soldier Gilad Shalit.
"Today I bring a proposal to the Government for a deal that will bring Gilad Shalit home alive and well," Netanyahu said at the beginning of a special Cabinet meeting Tuesday night at which a vote was to be taken to approve the deal.
The Israeli leader, saying it was "the best deal we could have at this time," acknowledged the difficulty in maintaining the balance between bringing back an abducted soldier and maintaining the security of the citizens of Israel.
"The deal I am bringing to the Government expresses the right balance between all of these considerations," he said. "I do not wish to hide the truth from you – it is a very difficult decision. I feel for the families of victims of terror, I appreciate their suffering and distress, I am one of them. But leadership must be examined at moments such as this, being able to make difficult, but right, decisions."
Netanyahu said that "storms are sweeping the Middle East," he did not know if Israel in the near future could secure a better deal "or any deal at all."
"It is very possible that this window of opportunity that opened because of the circumstances would close indefinitely and we would never have been able to bring Gilad home at all," he said.
Netanyahu said the deal was finalized and signed Tuesday after being initialed last week.
Foreign Minister Avigdor Lieberman and National Infrastructure Minister Uzi Landau of the Yisrael Beiteinu Party, and Vice Prime Minister Moshe Ya'alon of the Likud Party voted against the agreement.
The Shalit family said it would dismantle its protest tent in front of the Prime Minister's office in Jerusalem.
"After 5 years, 1935 days and long nights, the government of Israel is returning our son Gilad to us," Noam Shalit, Gilad's father, said following the Cabinet's vote. "We bless the government for its courageous decision, despite the long stretch of time that has passed, this being the second sitting Prime Minister while Gilad has been in captivity." 
 
"As far as we are concerned, it will only be over when we see Gilad, descending the staircase, entering the home – only then will the circle be closed," Shalit added.
Previous efforts to free Shalit, who was kidnapped by Hamas-associated gunmen in a 2006 cross-border raid, have been frustrated by Hamas demands that Israel release terrorists responsible for some of the deadliest attacks on Israel.
Germany and Egypt have been attempting to broker a deal.
Thousands of Palestinians in Gaza and the West Bank reportedly were celebrating the deal Tuesday night.
 Click to login and write a letter to the editor or sign up for the Daily Briefing.
This article was made possible by the support of readers like you. Donate to JTA now.